There aren't a lot of titles I'm reading from Marvel right now. Maybe it's because they keep doing inescapable crossovers, or maybe it's just because the stuff isn't grabbing me. Exceptions to this are Matt Fraction's run on Invincible Iron Man (which I have to catch up on) and Mark Waid's Daredevil, which has been collected into a trade paperback released today.
I'm admittedly not a big fan of Daredevil. Again, not too sure why. Maybe it's the tiny horns, or the monochrome costume. I think more than that it's that over time he's become a cookie cutter brooding hero. I'm getting pretty tired of those (Batman being the exception).
What makes this run favorable in my mind is that it's a departure from the grim Daredevil that we've all gotten used to. He's gotten a new lease on life, which has lightened his demeanor. To me, it's a breath of fresh air.
I've always been a big fan of Mark Waid's superhero stuff. He's got a good sense of character that always shines in his work, and Daredevil is no exception. Waid does an excellent job putting together Daredevil's new outlook in the fallout of everyone "knowing" he's Matt Murdock.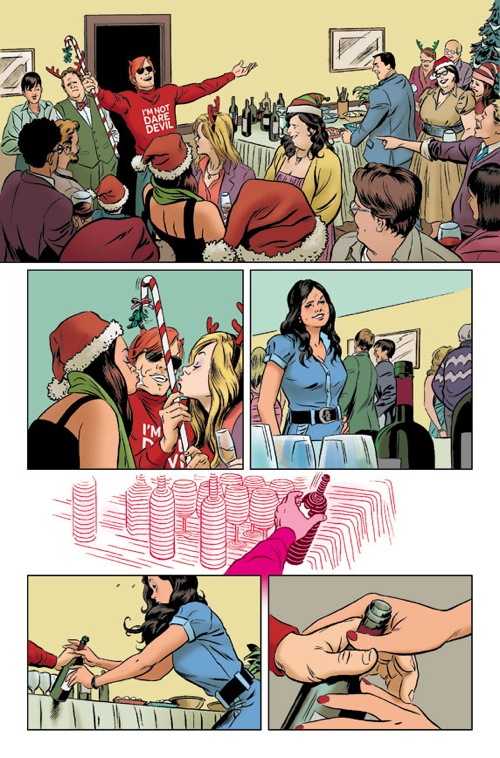 On top of that Paulo Rivera is doing the artwork and it just looks wonderful. He's got a visibly practiced hand that compliments Waid's writing style perfectly, and he has a really beautiful take on DD's radar vision.
It's entirely possible that you already know that this book is great, possibly from the series winning three
Eisners
, or just from all the buzz that surrounds it, but there is the off chance that you know nothing about it. If this is the case you should probably go pick up a copy of Daredevil by Mark Waid Volume 1.
It collects issues 1-6 and it's 15.99+tax
It can be found at any comic shop worth a damn.